INTERFACE – THE NEXT GENERATION.
Now that the paddling public has been spoiled by Barracuda's light weight high Performance Sea kayaks it is time to move onto the next generation of hull forms that our ultralight technology now lends itself to. What better time to launch the newest Barracuda kayak than in our 20th anniversary year!  Read on to hear more from Gordon Robinson about the thinking and concepts of the "NEW Interface" and watch the fire-side chat/interview with Gordon "Behind the design"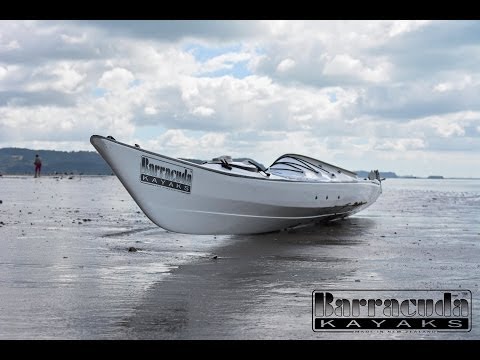 Why?
When the Beachcomber was designed sea kayaks were all about: storage capacity, stability and manoeuvrability.
Over ten years on life has changed for many people and time is valuable for many of us making multiday trips a rare treat. A direct result of which is a growing demand for lower volume kayaks that do not require large amounts of storage space. As we all know kayak design is an exercise in trade-offs; a high volume kayak (when empty) sits higher in the water creating more aero dynamic drag or "windage" particularly in a side chop and wind. More drag means less speed and higher energy output for little or no mileage gain.
Talking to many of our clients and this includes specialist kayak stores, lower volume kayaks is a constant request, and so over the last twelve months Barracuda Kayaks have been quietly developing the Interface.
Hull form
While round bilge hulls are good all-rounder's and lend themselves to heavy rotomoulded kayaks the lighter vacuum formed high performance kayaks sometimes require weighting up for some people in the windy conditions particularly for the lighter weight paddlers between 50/75kg. In my experience most round bilge kayaks are prone to sideways windage therefore sideways drift.
No matter what their volume most round bilge hull forms suffer this fate, those that do transition into a 'vee' through the keel fare somewhat better. Enter the hard chine 'vee' hull, smoother riding with far less sideways drift resulting in a higher cruising speed  in the bumpier conditions- the trade-off for this is usually maneuverability.
This is where weight comes into the mix- a weighted kayak will sit deeper in the water and be more settled in these conditions. There's no doubt that kayakers want light kayaks and why not? Being able to control your kayak off the water can be just as important as on and delivers great independence.  A common comment we get from Beachcombers is "I can go kayaking on my own, I don't need a friend to come and help lift the kayak on and off the car" for many females that's very empowering.
So in developing the new Barracuda  Interface we started with one question; what hull form lends itself to being as light as a Beachcomber Ultralight that a lightweight and or less committed paddler can handle in windy and choppy conditions and will need little or no added weight to keep it settled in the water? We kept coming back to a vee bottom every time!
As many of our long-time supporters know Barracuda cut its teeth on deep vee hulls twenty years ago and were built in Kevlar and in production until 2010. There were four models in total- 3 singles and 1 double. Over the last 20 years I have paddled all these kayaks in extreme conditions in seas up to 6 meters and winds gusting up to 50 knots, thousands of kilometres. I have never been in a situation where any of these kayaks felt like they could not handle it. Granted,  most kayakers will not go out in those sort of conditions but it is the lessons learned from those conditions and extreme designs that flow through to the lower levels just as race car advances  flow through to production cars.
The Interface is the results of the flow through effect, taking all the design lessons learnt from the deep vee hulls and the Beachcomber Ultralight and combining them into a user friendly kayak for the majority of paddlers whence the name "Interface"
 a thing or circumstance that enables separate and sometimes incompatible

elements to coordinate effectively, INTERFACE
How does the Interface handle compared to the Beachcomber?
Speed- It's faster in all situations (approx. 15-20%) that we have tested it in so far, acceleration, up wind, downwind, side on and in flat water.  We have seen cruising speeds ranging from 9.5km/h to 10.2km/h and top sprinting speeds of 12km/h all with experienced paddlers. We will be testing over the next two weeks with novice and first time paddlers and will post our findings on the website and face book. It would be fair to say that the Interface has blistering up wind speed- where it really counts!
Given that the prototype is built from fibreglass and approximately 5kg heavier than the vacuum formed production kayak I would expect up to a 5% speed increase, I am also confidently the production weight to be comparable to the Beachcomber Ultralight at 17kg.
Stability- As a general rule the Interface will not be as stable as the Beachcomber, it is a longer skinnier faster kayak- this is the trade-off for speed.
Vee bottom hulls usually have less initial stability and higher secondary stability compared to a round bottom kayak of the same dimensions. So for your average paddler that has not paddled a vee hull there may be a feeling of twitchiness (mostly in initial stability when stationary) for the first few hours of paddling until muscle memory is formed and their body adjusts, this will normally disappear once they start paddling. The secondary stability is comparable to the Beachcomber. On a sea kayak scale the Interface is a stable kayak, it has been designed for novice to expert paddlers. It is important to remember that everyone has a different feeling for balance as we are all different shapes and sizes so as a general rule it always pays to try a kayak for yourself rather than trust other people's judgments completely.
Manoeuvrability – It turns well and rails well. It will never out-manoeuvre the beachcomber with its round hull and extended rocker- again this is the trade-off for a faster kayak that handles rough and windy conditions better.
It handles surf really well and in broach entry holds into the wave where the Beachcomber can tend to get paused out in front of the white water.
It handles like a dream without a rudder pointing exactly where you want it to go and responds well to small adjustment strokes or railing without over-steer or , so if you like to paddle without the rudder from time to time the Interface is the Barracuda for you.
We will have more information regarding specifications and availability in your region or country over the coming weeks, we would love to hear from you though, so send your questions direct to gordon@baracudakayaks.com
More feedback from our Prototype test paddles HERE
It was a beautiful ride with the wind. I ordered 10 on the spot, and want them tomorrow. Ian Ferguson

The boat had such impressive tracking ability I quickly decided to raise the rudder and just use the chines to surf the boat  Kurt Jonkers

It felt a bit like I was hopping out of a trusty family saloon and jumping in to a peppy wee sports car David Lomas

The hard chine enables very precise maneuvering as you begin to use the rail, I suspect this boat will have broad appeal and be very satisfying to paddlers who are interested in refined characteristics. Andrew mount AUT