INTERFACE – THE NEXT GENERATION.
Now that the paddling public has been spoiled by Barracuda's light weight high Performance Sea kayaks it is time to move onto the next generation of hull forms that our ultralight technology now lends itself to. What better time to launch the newest Barracuda kayak than in our 20th anniversary year!
The Interface is the results of the flow through effect, taking all the design lessons learnt from the deep vee hulls and the Beachcomber Ultralight and combining them into a user friendly kayak for the majority of paddlers whence the name "Interface"
a thing or circumstance that enables separate and sometimes incompatible elements to coordinate effectively, INTERFACE
INTERFACE   DIMENTIONS | Available in Low, Med & High Volume
Length Overall:   5195mm
Width Overall:    575mm
Depth Overall:    360mm    add 16mm for m/v & 35mm for h/v
WEIGHT RANGES
Low volume:                               50- 70kg
Medium volume:                         70- 85kg
High volume:                              85- 110kg
Hatches & Cockpit
Front hatch opening:     275mm x 200mm
Rear Hatch opening:      400mm x 200mm
Cockpit opening:             800mm x 415mm
VOLUMETRICS
(Based on the medium size. Low & high TBA)
Front storage compartment: 72lt
Sealed glove box: 15lt
Cockpit: 170lt
Rear storage compartment: 96lt
SUGGESTED RETAIL PRICE: $3440 NZD INC GST
Interface Review : Scott Donaldson
I first saw the interface sitting on the boat ramp. Its certainly an aesthetically pleasing piece of kit.
Lets face it most purchases are made with visual priority.
Its the first kayak I've paddled since paddling the Tasman Sea.
I expected another sea kayak that ploughs through the chop and takes a few good nudges to catch a wave.
The first stroke off the ramp indicated a light responsive vessel that does not require a V8 to drive it.
As we progressed to a 'bit of chop' [thats a relative term] the stability did not change.
The boat run seemed unaffected by the chop as she carved at a seemingly similar pace to the flat.
After a while in the harbor the temptation was too much and we had to have some fun on the downhill.
Often two strokes were ample acceleration in this light craft and running the swell was plenty of entertainment.
This is the kit you need to keep a good pace all day. Its very responsive and accepts the lumpy stuff with no fuss.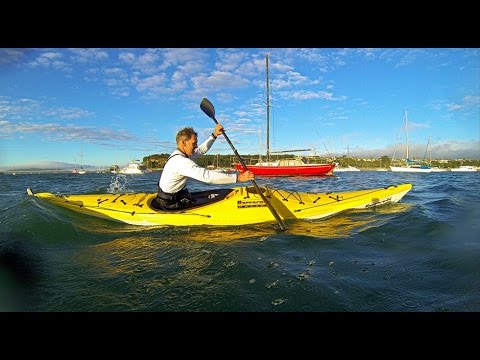 Scott Donaldson
http://doubleditch.co.nz
http://www.facebook.com/doubleditch
Email: scott@doubleditch.co.nz